Fortune Crates can be attainable through sale day, events, and even surprise airdrops! Be sure to get into Tapwar and participate in new seasons and campaigns to win yourselves Fortune Crates!


Sales
Starting 17 October 2022, Fortune Crate sales are available every 3 days. You can refer to our official website, https://monstainfinite.com/fortune-crate/ to view the sales countdown, and how to purchase them.
Do not miss them! Do remember to jot in your calendar!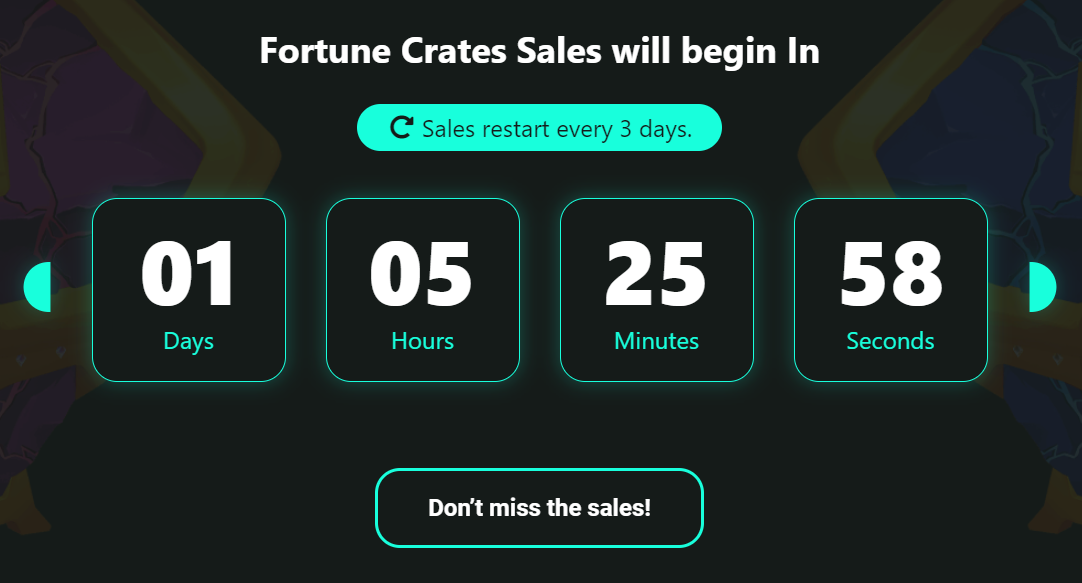 On Fortune Crate sale page, https://marketplace.monstainfinite.com/fc-bundle-sales, we offer Monthly Pass product - 178 Fortune Crates per bundle x 10 distributions over the course of 30 days (178 Fortune Crates every 3 days is distributed each time)
Fortune Crate bundle is no longer available in Monsta Infinite Marketplace and it is a better way to improve and streamline our sales process to reduce complications from NowPayment transactions by offering Monthly Pass
Click here to find out how to purchase Fortune Crates!
Click here on how to utilize Fortune Crate in-game
Video guide on how to purchase Fortune Crate Monthly Pass
Important Notes
You are not allowed to purchase both bundles and monthly passes simultaneously.
Once you have purchased Monthly Pass, you can only purchase a Bundle or Monthly Pass after you have received all 10 bundles (after 30 days).
Prices and amount of Fortune Crates per bundle are subject to change.