In-Game Allowance Setting
You're going to need all the help you can get to hit the top of the leaderboard! Check out the TapShop and equip yourselves to be glorious in Tapwar!
Go to the Marketplace Spending Page and connect your Monsta Wallet that is linked to your Tapwar account.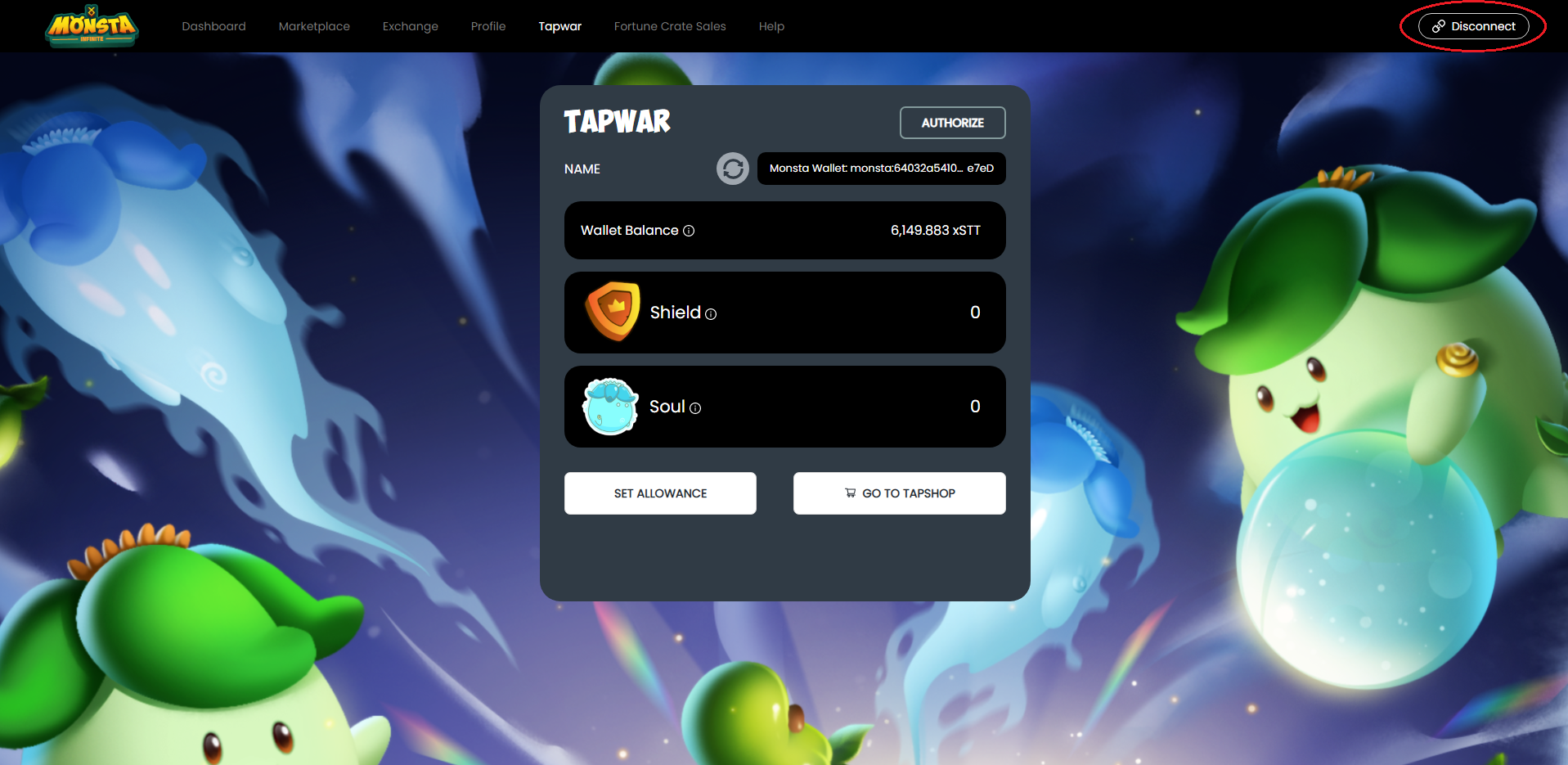 Click "Authorize" to authorize transactions in your account and approve the necessary steps.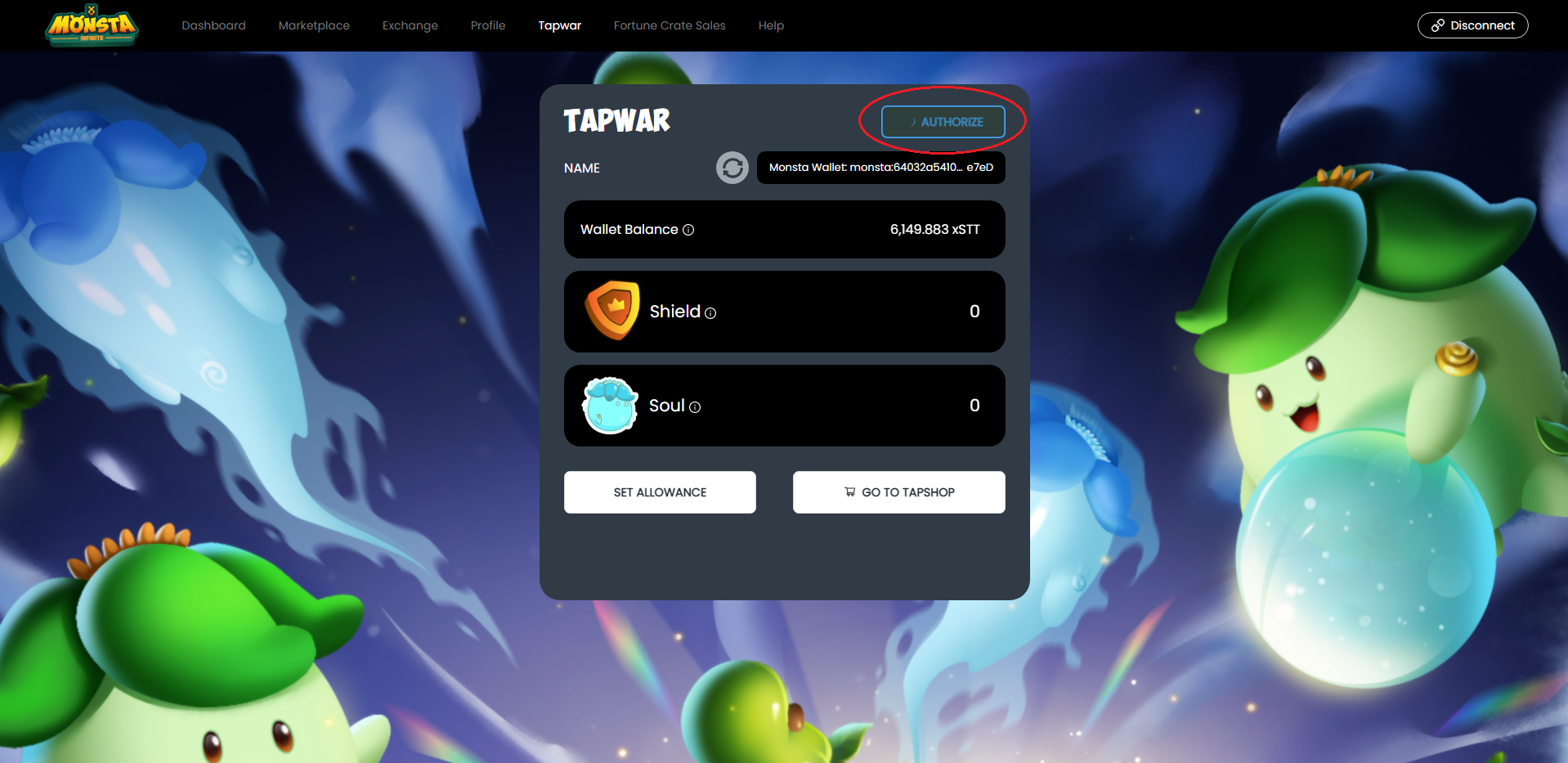 You will then able to view the amount of Shield and Souls you gained by playing Tapwar with this Monsta Wallet.
Note that the values below are for display purposes only.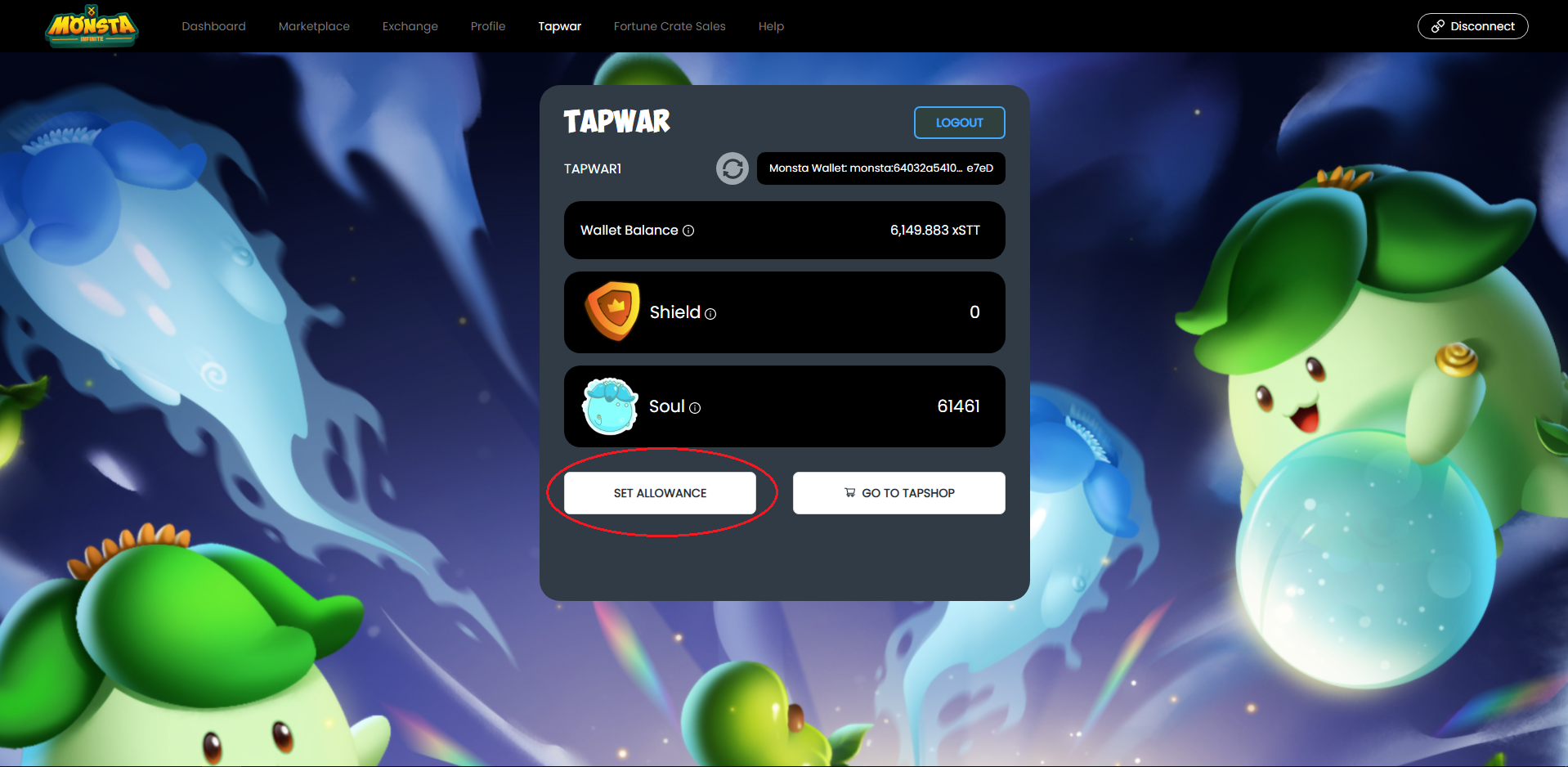 To begin your in-game purchases, you would require to set an allowance. Click Set allowance to redirect to the "Allowance" page.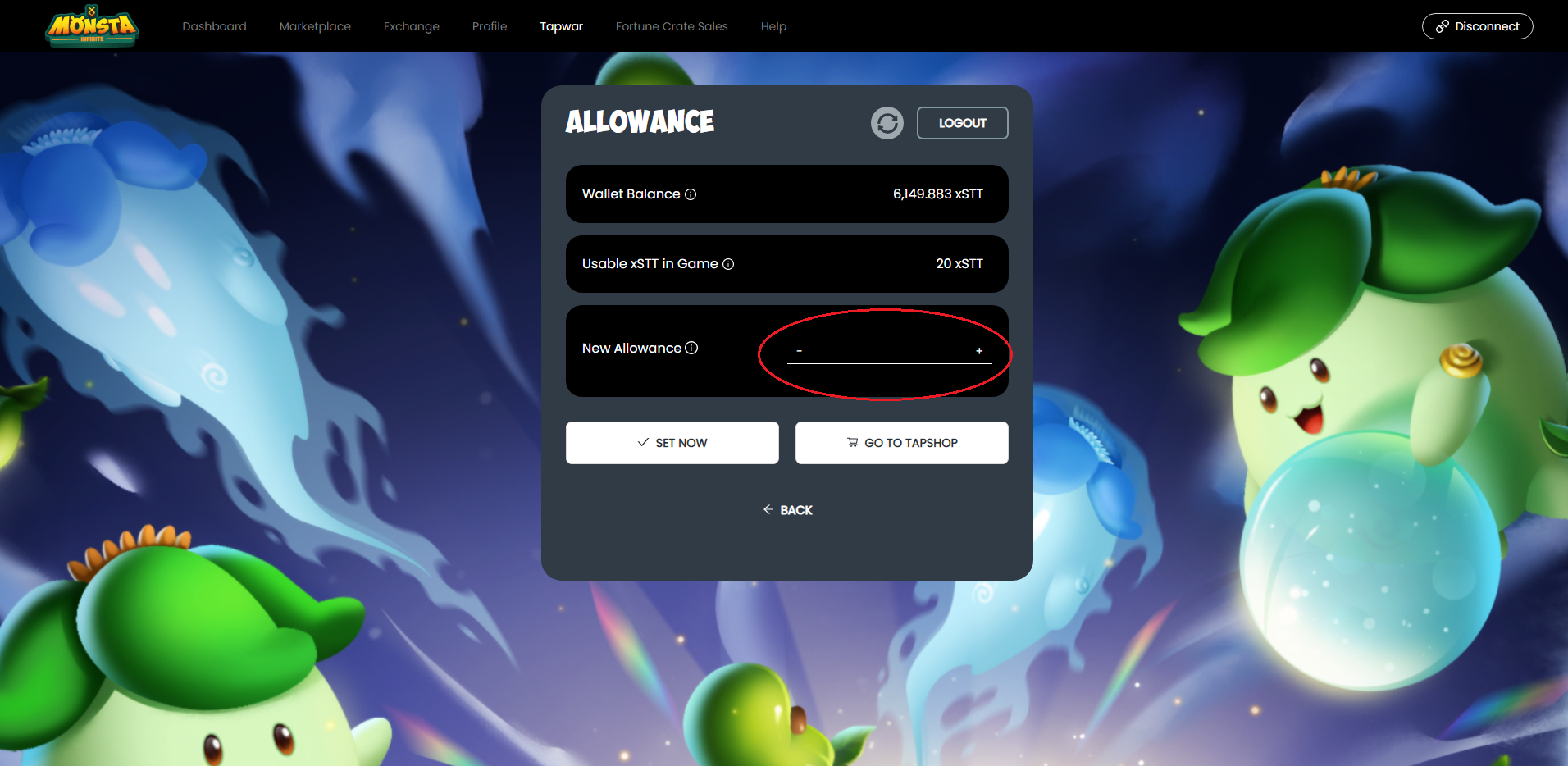 Set a specific amount you want at the "New Allowance" section (see above) and click " Set Now"(image below) . Note that the allowance is based on the amount of xSTT in your wallet balance. You are not able to set an allowance higher than the amount of xSTT in your Monsta Wallet.
Don't worry about the gas prices! All transactions within the Monsta Chain made with Monsta wallets have 0 gas fees.
Once you have set your new allowance, you can view the amount of xSTT usable at the Usable STT section.
Note: After you have set xSTT allowance in https://marketplace.monstainfinite.com/tapwar but not showing on Tapwar game. Play a round and the xSTT allowance will appear on Tapwar lobby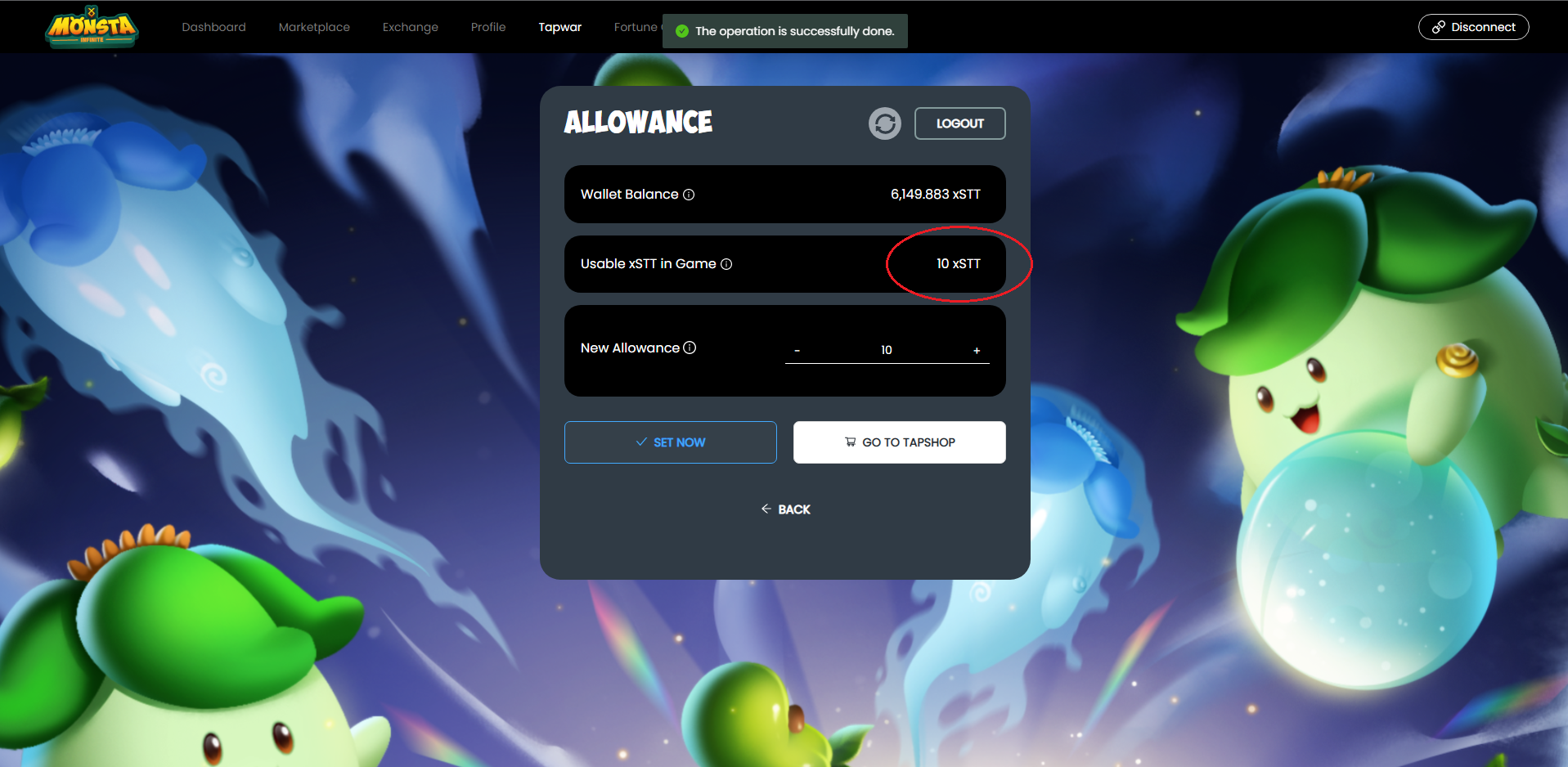 Now you can make any in-game purchases in Tapwar!
TapShop
TapShop is a feature in Monsta Marketplace that allows users to purchase shield recharge to protect your Souls Point in-game instantly in Marketplace without going into Tapwar game itself to purchase shield recharge.
Runewords shown in TapShop is reflecting Runewords amount in-game.
Click this link to know more about Recharge Shield: https://help.monstainfinite.com/hc/en-us/sections/11493566928921-Shield-Recharge
Click this link to know more about Runewords: https://help.monstainfinite.com/hc/en-us/sections/11493531330585-Runewords
To find TapShop, you will need to go to Marketplace and click on 'Tapwar' panel or click https://marketplace.monstainfinite.com/tapwar and TapShop is located beside the button "Set Allowance".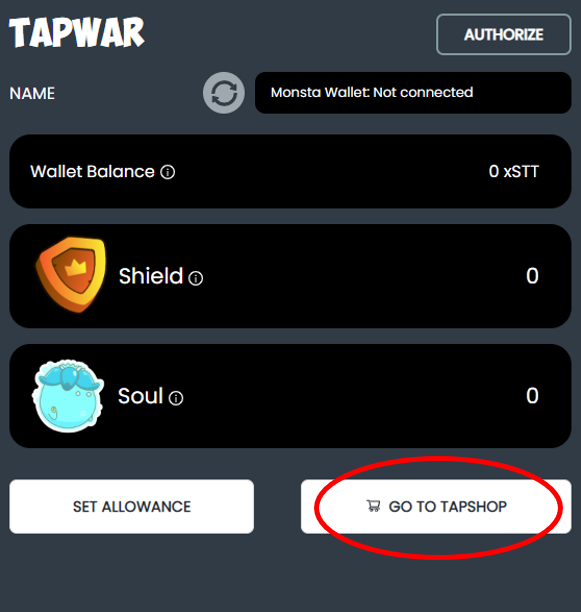 Once you have clicked 'GO TO TAPSHOP', you will be redirected to TapShop and may proceed to purchase Shield Recharge in-Game.
From there you can exchange your recharge shield for runewords and start getting extra gameplay and so much more!
Note: You are required to click 'AUTHORIZE' so that you are connected to Monsta Wallet that you use to play Tapwar so that the Runewords will be reflected.